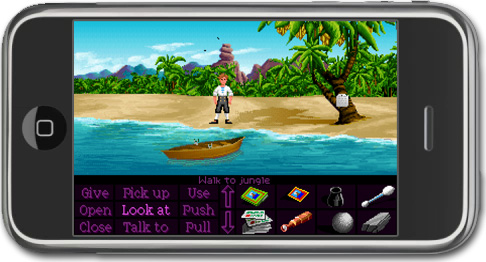 La verdad es que no es ninguna novedad la existencia de éste programa, pero creo que era necesario compartirlo con vosotros, por si había alguien que aún no lo conociese.
Más de uno de nosotros se quedaba pegado a la pantalla del ordenador (por aquel tiempo, en mi caso, un 486DX2 a 75Mhz, con 4Mb de Ram y 400Mb de DiscoDuro) con las magníficas e irrepetibles aventuras gráficas de LucasArts. Monkey Island, Indiana Jones, Loom, Day Of Tentacle, Maniac Mansion, The Dig (esa obra maestra), Full Throttle, etc…
Que grandes ratos, viendo como Guybrush Threepwood intentaba convertirse en pirata y conquistar a su amada gobernadora. Actualmente, el genero de la aventura gráfica, ya no tiene tantos adeptos como antaño (¿falta de ideas?), aunque siempre nos quedarán los clásicos. Es cierto que si instalamos una aventura de LucasArts, como Monkey Island 2: Lechuck's Revenge en nuestros PC's actuales, los problemas de compatibilidad no tardan en aparecer: no hay sonido, no deja guardar partida, etc… Para ello tenemos un gran invento, ya conocido por muchos, el magnífico SCUMMVM.
SCUMMVM es una máquina virtual que permite que «la mayoría» de los juegos de LucasArts funcionen prácticamente a la perfección en cualquier PC. Pero no seria noticia si sólo estuviese disponible para PC.
Atentos porque éste programa nos permite jugar a nuestros juegos de siempre en:
PC – mac – PSP – Symbian S60 – Symbian UIQ (táctil) – iPhone – PSP – Windows Mobile – PS2 – Wii – GameCube – Dreamcast
¡Increíble!, sólo tendréis que acceder a la página web de ScummVM y podréis descargar el programa para las distintas plataformas. ¿Como funciona? Nos va a pedir la carpeta en la que están guardados los juegos (no requiere ninguna versión especial de los juegos, solo la de MS-DOS o Windows de toda la vida).
Para los que ya no tengan ninguna joyita de éstas, os recuerdo que al ser juegos muy antiguos es muy posible que encontréis muchos de ellos en páginas de Abandonware.